After a car accident, recovering from a personal injury can be nerve-wracking. Here, experienced personal injury attorneys at MANGAL, PLLC explain what the average car accident settlement amount is and how car accident settlement amounts are determined in Florida.
Average Car Accident Settlement in Florida
Being involved in an automobile crash can be frustrating and the situation may become even more terrifying if you have suffered serious injuries. According to personal injury law in Florida, car accident victims require meeting specific criteria to file a 3rd-party claim for personal injuries due to an automobile crash.
After a severe accident, victims often wonder about the compensation they could obtain via a legal settlement. However, the truth is that there is no "average" settlement amount.

The sum of money awarded to victims in an automobile crash settlement may differ significantly, based on several factors, such as the severity of the injury, the insurance policies involved, and the type of the accident.
To determine the precise settlement amount, it is necessary to collect the necessary information that can be best utilized by an experienced personal injury lawyer in Clermont, Florida.
If you have recently suffered severe injuries in a car crash and you are not sure how to get compensation, contact qualified personal injury lawyers at MANGAL, PLLC – Clermont Personal Injury Law Firm today.
How to Determine Car Crash Settlement Amounts
How much money you could get in a car crash settlement depends on some specific pieces of information related to the crash. The definition of a car accident may vary from person to person, ranging from a minor fender bender to a serious accident resulting in personal injuries and considerable property damage.
For instance, the settlement amount you would receive in a car crash that did not lead to injuries, will likely be less than the amount you would obtain in a crash that resulted in severe injuries, fatalities, or damage to property and other vehicles.
If drivers are involved in an automobile accident, the steps they need to take depend on the severity of the accident and the extent of the damage occurred.

The Florida law requires people involved in a car crash to contact law enforcement as soon as possible if the incident caused:
personal injury
property damage exceeding $500
death
Many individuals involved in a minor crash, do not choose to contact law enforcement for various reasons, largely based on their specific situation.
Whether or not you choose to contact police after your crash, it is crucial to record all accident-specific losses and collect personal and insurance-related information of all the parties involved.
If you want to file a personal injury claim, you may require collecting additional information like:
Medical expenses
Costs for repairing the car
Estimated costs for continued care (e.g., in cases of severe/permanent injury)
Other fiscal losses (e.g., lost income)
This information can help significantly in figuring out how much money you would be able to obtain in a personal injury case.
Factors Affecting Car Crash Settlements in Florida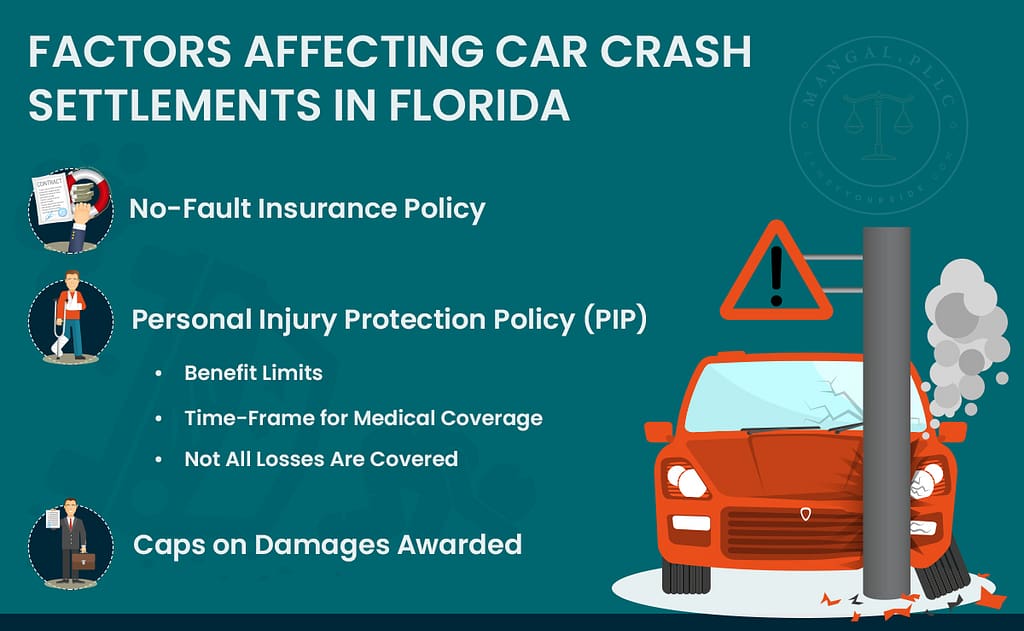 As per different law resources, the average amount for car crash settlements is between $10,000 and $60,000 in Florida – but it could be even more! As mentioned earlier, settlement amounts may differ, based on various factors, with the most important factors being the severity of the injuries and the potential of your legal representation.
An experienced car accident attorney in Clermont, Florida can help you understand how much compensation you may obtain and the steps you can take to lower your fiscal burden while you recover.
No-Fault Insurance Policy
When filing a car crash claim in Florida, it is important to understand that Florida has no-fault accident law – according to which, individuals sustaining injuries from an accident must first seek compensation via their own auto insurance.
No matter how serious or minor your accident is, contacting your own auto insurance company is the very first step you should take after being involved in an automobile accident. To start the process of getting expense-related coverage, a call to the insurer should be made after getting the necessary medical treatment, contacting law enforcement, and consulting with a personal injury lawyer in Clermont, Florida.
Under Florida's no-fault law, you can start to obtain coverage through your own insurance policy before determining the at-fault party.
Personal Injury Protection Policy (PIP)
In Florida, drivers must have minimum $10,000 as personal injury protection (PIP) coverage via their own automobile insurance. This coverage is important when you need an initial recompense after an auto accident.
Via your auto insurance's personal injury protection, you may be eligible to get coverage for the following:
Reimbursement of travel costs for visits to the doctor
Up to 60% of lost income
$5,000 in death benefits
Up to 80% of medical costs
While PIP can help get the initial fiscal coverage after a crash, there are some restrictions to PIP coverage.
Benefit Limits: Personal injury protection (PIP) benefits don't exceed $2,500 unless it is established that you had an emergency medical condition (EMC).
Time-Frame for Medical Coverage: To get coverage for medical expenses due to the crash, you must be treated within 14 days of the crash. Any costs of medical treatment past this time window may not be covered under your PIP benefits.
Not All Losses Are Covered: While personal injury protection benefits do cover some types of losses, it does not cover losses related to suffering and pain. Having said that, you may recover this type of losses as well as other costs that aren't covered under auto insurance by filing a 3rd-party claim against the at-fault party with the help of a personal injury attorney in Clermont, Florida.
Caps on Damages Awarded
Damage caps basically refer to limits by law on the amount you can obtain in damages in personal injury cases.
The most common damage caps in personal injury cases are the ones on punitive damages. Punitive damages are a way to punish or deter the risky behavior of the at-fault party under specific situations.
Is general, the cap on punitive damages in personal injury cases in Florida is not more than 3x the amount of compensatory damages (such as, medical bills, costs of car repair, etc.), or a maximum of $500,000 — whichever is bigger. However, there can be a few exceptions to this rule.
Filing a Car Accident Claim in Florida
If you're struggling to receive the compensation necessary to cover costs and losses after a car crash, you may need to seek strong legal representation in order to figure out a fair settlement, based on details of your car accident case. At MANGAL, PLLC – Clermont Personal Injury Law Firm, our team of experienced car accident attorneys in Clermont, Florida can offer expert legal advice, negotiate with the at-fault party's insurer, and even take your case to trial (if required) to get you the recompense you deserve.