Oftentimes, motorcycle crashes cost riders more than their motorcycle insurance deductibles. From vehicle damage and physical injuries to lost income, motorcycle accidents often lead to unanticipated financial hardships for victims
According to the National Highway and Traffic Safety Administration (NHTSA), motorcyclists are 28x more likely to sustain fatal physical injuries, 10x more likely to sustain serious injuries, and 3x more likely to sustain injuries, in general, in all traffic accidents.
Severe trauma often results in hefty medical expenses, long-term disabilities, costly litigation, and pushback from the insurers involved. Sometimes, it takes several years to recover from the economic impact of a motorcycle accident, but an experienced accident lawyer in Clermont, Florida may assist sufferers in receiving compensation for their losses due to a motorcycle crash.
The Costs of Fatal and Non-Fatal Motorcycle Crashes
Since motorcycle crashes involve several factors that vary from accident to accident, quoting an accurate dollar amount can be tough. When it is to calculating the expense, the severity of the injuries is usually the leading factor to consider.
Typically, the biggest fiscal challenge of a motorcycle crash is specific to medical treatment. The more serious the injury, the higher the cost of treatment. Plus, severe injuries may result in permanent disability or give rise to long-term health issues, which leads to considerable long-term expenses.
According to the U.S. Government Accountability Office (GAO), the average emergency care and ICU treatment expenses of fatal injuries to a motorcyclist is nearly $1.2 million.
A non-fatal motorcycle accident could cost between $2,500 and $1.4 million, but this cost may go up if the rider sustains a non-fatal but serious brain injury. Sadly, over the last several years, there has been a constant rise in the cost of motorcycle accidents.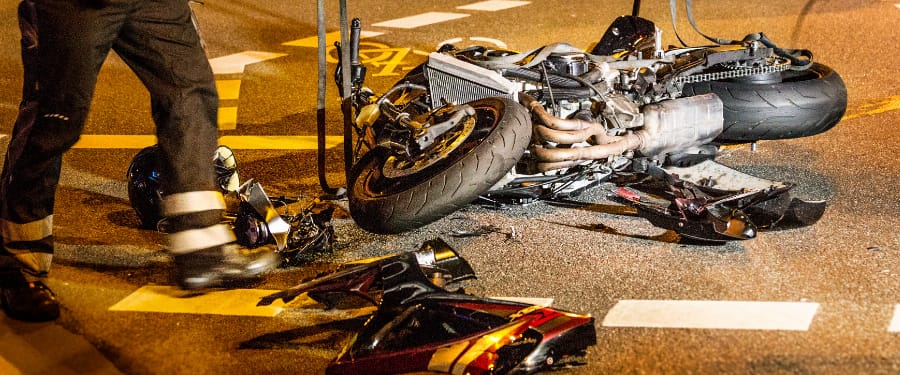 As per the National Highway Traffic Safety Administration (NHTSA), motorcycles accounted for just 3% of all registered vehicles in the country. Yet, the fatality rate for motorcyclists was 5.5x greater than that of car occupants. The injury rate for motorcyclists was also 1.2x higher, compared to car occupants. Motorcyclists also made up for 13% of total traffic-related fatalities, 14% of all vehicle occupant fatalities, and 4% of all traffic-specific injuries.
According to the GAO, the total direct calculable expenses of motorcycle accidents were around $16 billion. Around 75% of the measurable expenses of all motor vehicle accidents were borne by society.
So, it can be concluded that the average cost of a fatal motorcycle crash was around $1.2 million, and the cost of injuries in a motorcycle accident could range from $2,500 to over a million dollars.
The Cost of a Damaged Vehicle in a Motorcycle Crash
In the majority of motorcycle crash cases, the decision to replace, repair, or recompense the vehicle involved is not taken by the owner, but the insurance company.
This means the insurance company involved in the accident decides whether it is economically sensible to repair your damaged vehicle or recompense you with the fair value of the vehicle. After settlement, motorcyclists usually end up realizing they haven't received fair recompense for these losses.
If the insurance company figures out that the cost of motorcycle repair is more than the value of the vehicle, the insurer may choose to recompense for your damaged vehicle. The insurance company would basically purchase the motorcycle from you, but you may choose to keep your vehicle by getting a salvage title and paying the insurer the salvage value of your vehicle.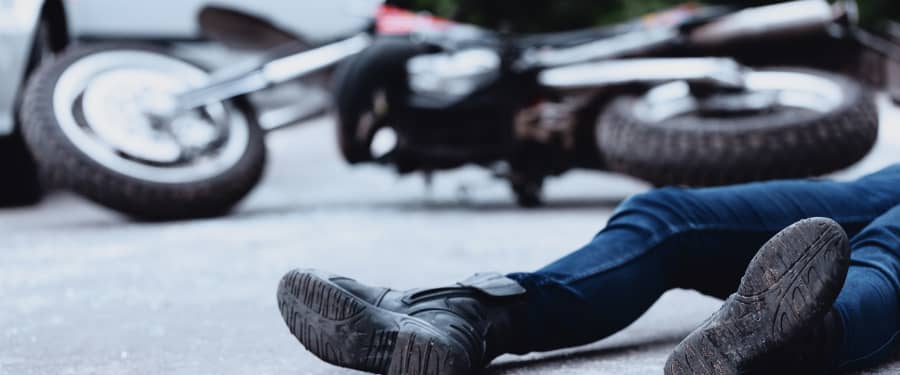 When appraised damage is equivalent to 80% of the actual cash value of the motorcycle, multiple insurers automatically total vehicles. Once the repair work starts, other types of damage often become apparent, eventually making the repair expenses greater than the motorcycle's actual cash value.
Recovering the Costs of Motorcycle Accidents
Unlike drivers of trucks and cars, most motorcycle riders don't get to enjoy standardized monetary protection against the expenses of an accident. Automobile insurance generally includes personal injury protection (PIP) coverage that offers coverage to auto drivers and passengers for personal injuries sustained in an accident, irrespective of the party at fault.
Motorcycle insurance typically doesn't include PIP coverage, so injured victims in a motorcycle crash are required to search for other sources to pay for their treatment and other accident-specific expenses.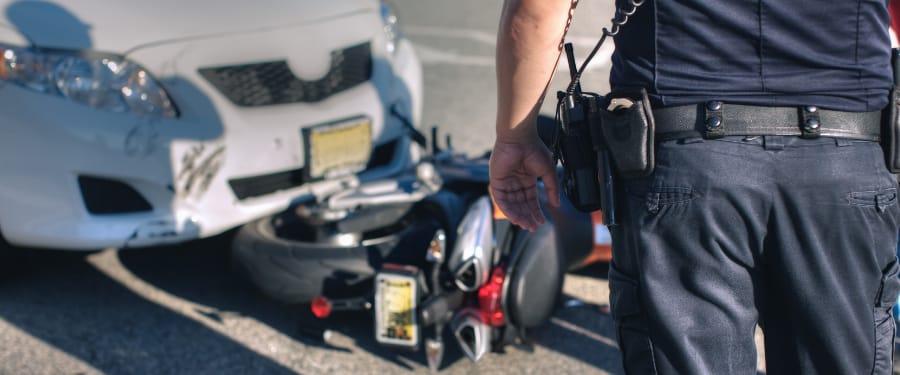 Having said that, if you sustain injuries in a motorcycle accident due to someone else's fault, you may sue that business or individual whose risky behavior or action led to your injuries.
Establishing Liability in a Motorcycle Crash Claim
For establishing liability in a motorcycle injury lawsuit, your motorcycle accident lawyer in Clermont, Florida will be required to prove:
The party at fault owes you a duty of care of not being involved in any acts or making decisions that may increase the risk of you getting injured. Other motorists on the road owe you the obligation to follow traffic rules and operate their vehicles safely.
The driver at fault breached that duty of care by being involved in irrationally risky activities or making decisions that increased the risk of you being injured. Such an act may include failure to yield, speeding, alcohol impairment, or other types of behavior that are not considered legal or safe.
The breach of that duty of care led to the crash and subsequently your injuries.
One of the compelling reasons to hire a personal injury lawyer in Florida to handle your motorcycle accident case is their ability to perform a comprehensive, independent crash investigation. This allows your lawyer to gather pieces of evidence specific to your case that is necessary to prove that the other party involved in the crash caused the accident.
Some motorcycle crashes may involve the product liability clause, which usually happens when some motorcycle part malfunctions or fails, and causes an accident. For the average individual, it could be tough to gather evidence for such damage by themselves. A personal injury attorney in Florida knows how to hold a manufacturer responsible for defective vehicle parts that led to an accident.
Your lawyer will factor in all the possible losses and provide an estimate of how much you deserve in damages. Most motorcycle accident cases settle outside of court. Your personal injury attorney will negotiate the best settlement amount possible for you which is usually way more than the initial settlement offer from the insurer.
Let an Experienced Motorcycle Accident Attorney Help You
Motorcycle crashes often result in severe injuries to the motorcyclist and lead to complex legal cases. Sadly, the complicated process of recovering damages from the at-fault party to cover your losses in a motorcycle crash requires:
Complete understanding of your long-term prognosis
Experience handling negotiations and litigation with the defendant's lawyer and insurer.
Our lawyers have been advocating for motorcycle accident victims and working to cover their losses for years. While no amount could compensate for the injuries caused to a motorcyclist by someone else, the recompense awarded to them can considerably help them with their recovery. At MANGAL, PLLC – Clermont Personal Injury Law Firm, our experienced motorcycle accident lawyers fight for your rights so that you get the compensation you deserve.